Author Profile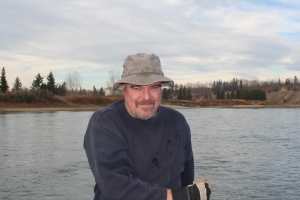 Kevin Bannister is Lorraine's husband and the father of five. He is a rancher living in the beautiful foothills of central Alberta. He has been a farmer, businessman, journalist, editor, sportswriter, stockbroker, truck driver, gum puller, janitor, corporate vice president, steelworker and door-to-door salesman.
He would like Thomas Peters and Murphy Steele to be celebrated as the heroes that they were in their lifetimes and to be inspirations to young people everywhere to persevere in the face of bigotry, poverty, government indifference or any other adversity.
He is in great debt, especially to his wife Lorraine who is his greatest critic and a superb editor, to Lorraine Delp his Fireship Press editor and to Mary-Lou and Jacquie at Fireship for publishing the book and guiding him along the way and to his daughter Rebekah who designed and built his web site. He is also thankful for Dr. Daniel Paul who corrected some mistakes and thus improved The Long Way Home.
Links
Second Glance Books, Lacombe, AB